Whether you hate or love Indian films (particularly Bollywood) we all have an opinion, but irrespective we all secretly do wish Oscar-worthy movies came along more often and finally we got a good chance with The Lunchbox, but India so wonderfully failed to nominate it. Waaaaah. Here is a rediff article written by Aseem Chhabra explaining the sad situation. It's lengthy, but worth the read. Before that, have a looksies at a social media snapshot of what everyone was saying about The Lunchbox.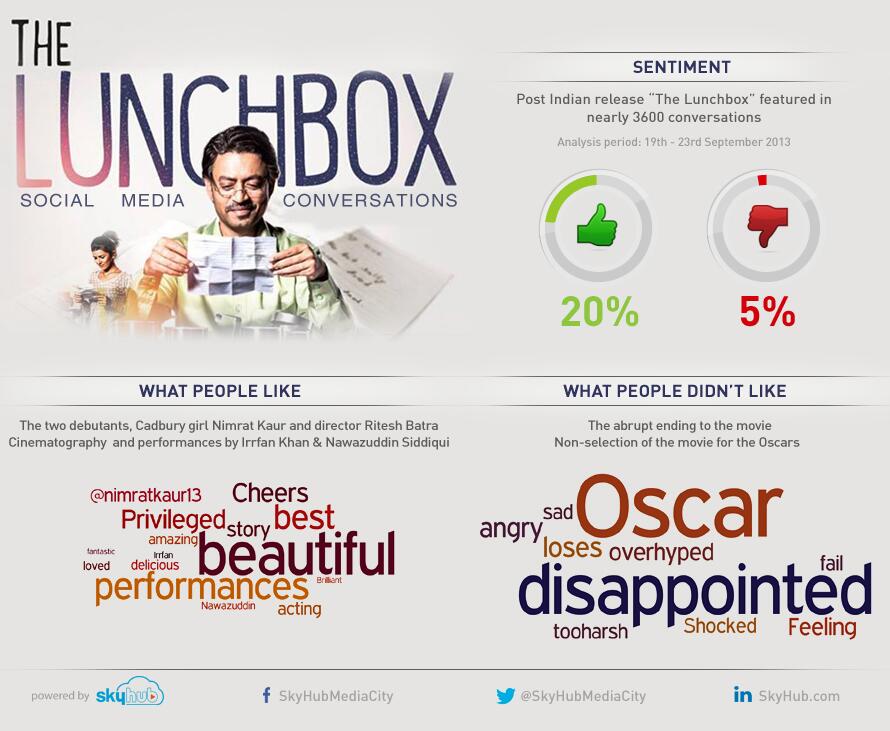 (source: twitter.com/daftari)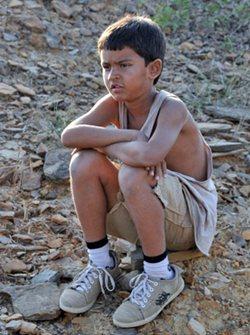 Aseem Chhabra is heartbroken that India overlooked the acclaimed film,The Lunchbox, as its Oscar nominee.
Two weeks ago, I sat at the Starbucks coffee shop inside the Chapters bookstore on John Street in Toronto. Anne Thompson, the influential critic, columnist for Indiewire, was seated on the same table next to me. She had just seen Ritesh Batra's
The Lunchbox
at a screening at the Toronto International Film Festival.
She liked the film so much that she wrote a piece in which she said: 'In all likelihood, India will submit yet another big-budget Bollywood film for the Oscar.' But she added that India would do well to pick
The Lunchbox
. 'It has heart, ' Anne felt.
On Saturday many film watchers in India and abroad were shocked to learn that the Film Federation of India did not select
The Lunchbox
as India's official entry, instead we heard that a Gujarati film,
The Good Road
, will
represent
the entire Indian film industry in the foreign language Oscar race.
I have nothing to say about
The Good Road
.
Like most critics and audiences in India and Indian film watchers abroad, I have not seen the film. It had a small limited release in Gujarat. And as far as I know it played at one film festival abroad -- the small niche London Indian Film Festival. I have not read anything about it. It may be a good film and I wish it good luck. But to say that I was disappointed that
The Lunchbox
did not make the final cut is a huge understatement. I was heartbroken.
I loved Batra's sweet, delicate film, a lot of food, a touch of love, a lot of simplicity and a real Mumbai story that is also so universal. It is very well written, with heartwarming performances, a lot of humour, and an ending like life's many uncertainties.
I have been an Indian film watcher in the US for three decades.

I have nearly made a career out of tracking how Indian films -- Bollywood and others -- perform in the West, among the Diaspora, American audiences and even members of the Academy of Motion Picture Arts and Sciences.

I have interviewed members of the Oscar foreign language committee and learned how rarely Indian films work with them.

A majority of them walked of the Academy screening of Devdas since they found the film loud.

In the same way I have seen how Indian films play at festivals in the US. And I can say with certainty that other than Slumdog Millionaire (and it was not an Indian production), no other Indian film has played so well at North American festivals as The Lunchbox.

The response at Telluride (and this was my 20th year at the festival) was stupendous. There were seven screenings, including a sold-out one at the 650-seats Werner Herzog theatre.

I was surprised by how many people at Telluride mentioned the film to me, just as when my American friends in New York were blown away by Monsoon Wedding and Bend It Like Beckham.

It was very clear that the audience at Telluride and later at Toronto related to The Lunchbox. It is a true crossover film. Many Academy members would have seen the film at these two festivals, and are quite likely to recommend it to their colleagues.

That is how films go on to win Oscars -- especially in the foreign language category. Building a strong buzz is very important. And The Lunchbox had it.
And it was not just Anne Thompson who was rooting for The Lunchbox.

At the film's after screening party in Toronto, I spoke to Michael Barker of Sony Pictures Classics (he has a solid track record of picking foreign films for distribution that eventually win the Oscar) and Danis Tanovic (one of The Lunchbox's producers and himself an Oscar winner for No Man's Land).

They seemed confident about The Lunchbox's chances, but if only India had nominated the film.

Then last week, Scott Feinberg, an influential columnist for The Hollywood Reporter, predicted that The Lunchbox would certainly make it among the five nominated foreign language films.

It was clear to many that The Lunchbox had a good a chance, a very strong chance. And on Saturday, India -- the biggest film producing country in the world -- lost that opportunity.
Again, I hope the best for The Good Road, but it will be such an uphill task for a film that hardly anyone has seen, in India and elsewhere.

There has been no conversations around The Good Road. There are no reviews in Variety and in The Hollywood Reporter. It does not have a distribution deal in the US.

The Academy is overwhelmed during the awards season. They have so many films to watch and the time and their attention span is short. And so I fear that in all likelihood The Good Road will be lost in the clutter of many other relatively unknown foreign language films.

I do not know what Goutam Ghose and his committee were thinking, but they seem to have no clue how the Oscar race can be won.

We will never know what their internal working process was, but they were certainly not working in the interest of an Indian film winning an Oscar.

A miracle can still happen, but I absolutely doubt if India now has the slightest chance of winning the foreign language Oscar. And that is a real shame!

On Saturday, Thompson wrote another piece in Indiewire on India's choice for the Oscars. She expressed disappointment atThe Lunchbox not making the final cut. And then she added:

'This underscores the need for the Academy to revamp the foreign language category, which has been stuck for years. One of the problems of letting individual foreign countries make the call is that they are often myopic if not corrupt and do not necessarily select the film that might best compete against other films for the Oscar.'

Thompson is right.

I sincerely hope things will change and the Academy will find a way to correct this very wrong way of selecting a foreign language film for the Oscar race.
Aseem Chhabra in New York